You're flying an airplane, not baking a cake, Sporty's officials point out, which is why Sporty's Deluxe Timer was designed specifically for pilots with two goals in mind: To be simple to use and easy to read in flight.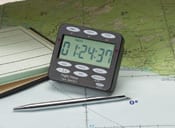 Based on customer feedback, Sporty's has added features to the Deluxe Timer, including a dedicated zero button to avoid fumbling to get the timer back to zero. There's also a new auto-reset function. While in the countdown mode, pressing the Start/Stop button for 2 seconds resets the timer to the last input time.
Two independent timers count up or down, each with a unique alarm. This timer has an auto-reset function and a clock with 12-hour, 24-hour and Zulu time. A backlit screen, now complemented by lighted buttons, makes night viewing easy.
Dual red LEDs flash to announce timer expiration, while the large numbers make the oversized screen easy to read. The buttons are big as well, making them easy to press even in turbulence.
Price: $26.95. For more information: Sportys.com or 800-SPORTYS.