Vertical Power is making available a free 12-page paper titled "Top 10 Aircraft Wiring Mistakes." The paper is written for homebuilders who want to avoid making common wiring mistakes.
"During the la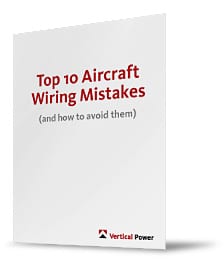 st few years we've talked with hundreds of homebuilders about their electrical system," said Marc Ausman, president of Vertical Power Inc. "There seems to be common topics about which builders have lots of questions. We've tried to address those questions in a short and easy-to-read paper."
The paper gives builders a simple way to start thinking about and planning the electrical system in their aircraft, and it applies to both traditional wiring as well as aircraft wired using a modern Vertical Power system.
Here are some of the topics builders can learn about in this paper:
How a basic electrical system works
How to get started wiring your aircraft
Learn if you are you making common wiring mistakes
What tools to use
Different types of contactors and how to wire them
The paper can be found here.
For more information: VerticalPower.com