Sean D. Tucker's Tutima Academy of Aviation Safety has partnered with jetAVIVA, a light jet acquisition and sales firm, to launch a new Light Jet Upset Recovery Training course geared towards general aviation's light jet owner pilots.
Following the FAA's recent announcement urging all commercial operators to begin incorporating Enhanced Upset Recovery Training, jetAVIVA and the Tutima Academy teamed to expand this recommendation to light jet operators. A recent NASA study demonstrated that Loss of Control (LOC) scenarios continue to outpace other factors as the leading cause of fatal accidents in the last 20 years.
To help combat LOC accidents, the course covers LOC scenarios and aerodynamics with a specific emphasis on LOC psychology. The three-day course utilizes the Extra 300L and Pitts S2B/C, giving pilots the ability to experience all flight attitudes and to test the edges of the aerodynamic envelope in a safe and structured environment under the guidance of aerobatic instructors, according to officials with both companies.
This course is open to any pilot who flies a turbine-powered airplane or is considering the purchase of a turbine-powered airplane.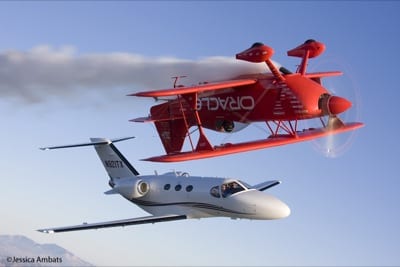 The team at Tutima Academy, including company principal and world-renowned airshow performer Sean D. Tucker, developed the curriculum in conjunction with jetAVIVA's jet instructor pilots. Says Tucker, "Flying aerobatics is the greatest thrill I've ever experienced. Being able to share my experiences to help other pilots survive emergency situations is even more rewarding. "
Since its inception, jetAVIVA has been dedicated to the development of its clients as owner pilots. Says jetAVIVA president Cyrus Sigari: "Training for and flying in competition aerobatics has significantly helped increase my personal flying skills, potentially saving my life one day. As a result I have become a firm believer that upset recovery training is not just an educational option; it should be required training for all those operating turbine powered aircraft."
For more information: 818.574.7770 or jetAVIVA.com