Sporty's has taken the famous A-2 flight jacket and updated it to a contemporary version.
Combining classic details with modern styling, it is crafted from a soft yet rugged cabernet leather that keeps out wind and rain, but is refined enough for a night out, according to Sporty's officials.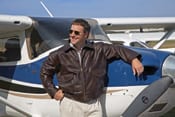 The A-2 Ace Jacket features full leather cuffs, an all-leather comfort waistband and traditional A-2 snap and side-entry pockets. Interior pockets can be used to store a cell phone, pens and more.
"Admit it," says Sporty's Vice President John Zimmerman, "you have always wanted a leather jacket. Wearing one is a fun part of being a pilot."
Sporty's A-2 Ace Jacket is warm enough to wear on even the coldest days, but it remains comfortable enough to wear in the cockpit. Authentic World War II details like the bi-swing back construction make it easy for pilots to move their arms without restrictions.
Sporty's A-2 Ace Jacket is available in sizes Small, Medium, Large, X-Large, XX-Large, Large Long, X-Large Long and XX-Large Long for $249. An additional $16 charge is added for the XX-Large Jackets.
For more information: Sportys.com or 800-SPORTYS.