AvConnect will reveal its new iPad application at this week's National Business Aviation Association convention in Atlanta, plus give away an iPad complete with the new app plus a one year's subscription to AvConnect.
"Our new iPad application takes aircraft management to a whole new level," stated Erik Murrey, CEO. "The iPad has opened doors to expand our services through several AvConnect partners, from flight planning to instant communication and data exchange from the cockpit, to FBO reservations. We're connecting pilots and owners to everyone that needs to know anything about their aircraft."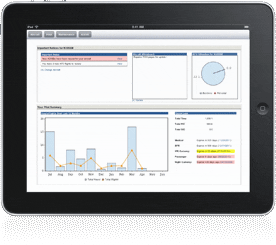 The new iPad application is the "technology nucleus" for general aviation owner/operators and the team it takes to manage their aircraft, collecting and disseminating data from one central application, company officials said. Pilots have every benefit of AvConnect, plus flight planning, moving maps and approach plates from WingX Pro7, service center communication and document exchange through EBis software, online FBO planning from ALLFBO.com, and instant air-to-ground communications with internet services through networks such as Aircell.
For more information: AvConnect.net