A mirrored drawing of a Spitfire signed by 37 Battle of Britain pilots and a limited edition book signed by legendary Pink Floyd drummer Nick Mason head the list of aviation art, books and memorabilia that can be purchased on eBay during October. Every item has been donated by supporters of XH558, the last flying Vulcan, to help raise funds to keep her flying.
"This is the crunch month for us," explains Vulcan To The Sky Trust Chief Executive Dr Robert Pleming. "We have to raise £400,000 during October to keep the last airworthy Vulcan flying in Britain. She's an icon of the Cold War and a vital part of Great Britain's engineering and military heritage. We have great plans for 2011, we just have to raise enough money right now to ensure that we get there."

For aviation enthusiasts, the star auction will be for the Battle of Britain mirror, on which an illustrated drawing of a Spitfire is surrounded by the RAF crest and by the signatures of 37 men who flew in Britain's most legendary air battle.
For followers of great British rock music, there is a copy of "Inside Out," the revealing history of Pink Floyd written by drummer Nick Mason. Donated during the restoration of XH558, it is signed "hoping to help the Vulcan fly, best wishes, Nick Mason" – a reference to the famous Floyd track "Learning to Fly." As one of the rare '100 First' copies, the book includes a limited edition certificate signed by Mason and by the celebrated album artist Storm Thorgerson, whose works include the cover for Dark Side of the Moon as well as many other albums for Pink Floyd, Rainbow, Muse and a host of other supergroups.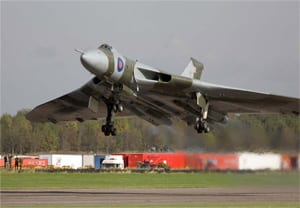 Other items to be auctioned on eBay include books and other pictures signed by squadron leader Martin Withers DFC, Black Buck 1, the only person to have captained a Vulcan in anger when he bombed the runway at Port Stanley during the Falklands war; personal numberplate XH55 ATE, subtle and stylish for 'those who know'; original artwork and limited edition prints of XH558 and World War II aircraft, some signed by the artists or by aviation celebrities.
To bid for these items, search eBay for the seller vulcantotheskyenterprisesltd. Auctions finish on or before Oct. 31. For more information: VulcanToTheSky.org