FLYIT Simulators will debut its G1000 panel at the AOPA Aviation Summit later this month in Long Beach, California.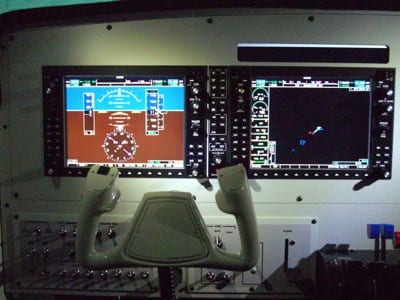 The G1000 panel will be available for viewing at Airportfest with the company's Professional Airplane Simulator,  which will be on display for demos. The G1000 panel will be available as an option on the company's standard Professional Airplane Simulators.
The Carlsbad, Calif.-based company has been producing professional helicopter and airplane simulators for 11 years. It recently introduced new immersive features on its 2011 FLYIT professional simulator, including:
Aircraft aerodynamic models so accurate that pilots have a real flight experience.
Engine and airframe vibration gives the feel that the simulated aircraft is actually off the ground and you actually feel the touchdown.
Right and left side window views give a 210° look at the sky. Fly Search & Rescue, turns about a point, crime scene orbits, high density traffic, IIMC and mountain flying.
Scenario Based Mission Rehearsal Training. Mountain flying, high altitude, accident scene, confined area ops, extreme weather, go-no-go decision with any weather you might encounter in real life.
Five year warranty.
FLYIT Simulators are shipped complete with everything, making them a true "plug and play" simulator, company officials said.
FLYIT Simulators are in 21 countries, used in flight schools, law enforcement, EMS, military, and universities. Company officials note that international shipments have increased significantly, with shipments in the last two years to Saudi Arabia, Russia, Dominican Republic, Philippines, Nigeria, Venezuela, Mexico, and Poland.
For more information: www.flyit.com, 760-603-8200 or 866-814-9678