Sporty's VFR Communications is brand new and features real-world scenarios and techniques to help pilots communicate accurately and confidently.
"So many pilots are concerned with how they sound when communicating in flight," says Sporty's Academy President Eric Radtke. "This program provides a complete course in all types of communication, including Air Traffic Control, pilot-controlled fields, and emergency situations."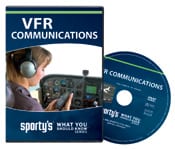 Detailed scenarios cover every aspect of both arriving and departing Class B, C and D airspace. There are also special sections on non-standard communications that you'll hear in the real world and other common en-route communications such as Flight Following from ATC.
"This program is a great review for your checkride, flight review and overall confidence," adds Radtke. "We use graphics to enhance the material and authentic transcripts to make sure this program reflects real-life flying."
VFR Communications is packed with nearly an hour of high quality video, and specially formatted for widescreen TVs. The DVD also includes an MP3 audio file so you can listen to the audio track of the program on your iPod, phone or any MP3 capable device.
VFR Communications is also available as a video download, for your laptop, iPhone or Android phone.
VFR Communications [D619A] is available in either DVD or download [E619A] format for $34.95 at Sportys.com or by calling 800-SPORTYS.