The Seattle area is known for its aviation innovation. The big name, of course, is Boeing, but now it's time to learn another: Dynon Avionics, which just may be the largest avionics company you never heard of. If you fly an experimental or Light Sport Aircraft, however, you probably know the Dynon name just by looking at your panel.
The 10-year-old company is the undisputed market leader in experimental avionics, appearing in more homebuilts and LSAs than any other manufacturer. Some estimates peg market share at an astounding 70%.
Dynon Avionics was founded in 2000 by John Torode, a pilot who keeps his Murphy Moose and de Havilland Beaver docked in front of his home on Lake Washington, not far from the University of Washington campus where he earned a Ph.D. in computer science.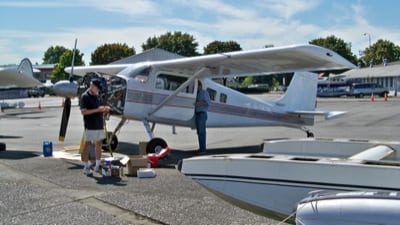 The first to integrate programmable analog circuitry into microcontrollers, Torode started a semiconductor company that was eventually purchased by Cypress Microsystems. His proficiency in microelectronics and love of aviation then led to Dynon Avionics.
"We have been around 10 years, so we're not really an overnight success," says Robert Hamilton, the company's sales and marketing manager. "But we know that most pilots of certified private aircraft have never heard of us."
So what's behind the company's success? Scary-smart engineers, according to Hamilton.
"Our founder is scary-smart," he said. "He made money in the semiconductor business, so he was able to fund the company adequately in the beginning. A lot of small aviation companies are under-funded, so it is hard to design for high volume or fund growth. We could do both. Amazingly, we have been profitable since the first year. The owner has kept all the profits in the company to continue hiring smart people and paying for inventory."
It also helps that 13 of the 20-person development staff are pilots, as well as several of the production staff. The staff is also very young — with an average age of just 30 — and many were hired right out of engineering school. "They didn't know that they couldn't do anything, so they went and did it," Hamilton said.
Also helpful is a group of "beta testers," Hamilton said, explaining these are "homebuilders who are willing to carefully test new products and firmware updates for us, and record their results, and give us feedback. This is a huge advantage, since our products will fly in 15 different types of airplanes before we release them to the market."
For the past five years or so, the company's mission has been to "cover the panel," which means that everything that appears on an experimental or LSA instrument panel is made by Dynon, Hamilton says.
Its flagship product is the SkyView System, a glass panel that includes a Primary Flight Display with Synthetic Vision, ADAHRS Module, Engine Monitoring, Autopilot, GPS Navigation Map, GPS receiver, Mode-S Transponder (integrated in the system), backup battery, and Top-Down Terrain. Just released is the addition of traffic information, as well as the ARINC 429 converter module. Another product launch, expected later this year, is a moving map navigation software option.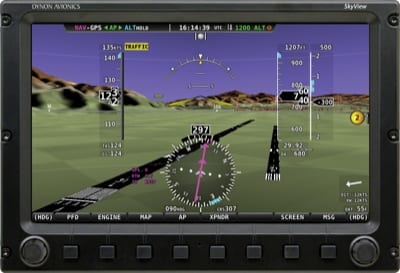 "We also are planning Weather Graphics and a Com Radio, which pretty much completes the panel," Hamilton says. "By making an integrated product with SkyView, we could improve usability, functions, and reliability. This is not much different from what Garmin did with the G1000 10 years ago."
The company also manufactures a number of Electronic Flight Information Systems (EFIS), including one model that flew into space on Burt Rutan's SpaceShipOne.
So what's next for the company?
"Display technologies are still evolving," he says. "We will keep up with the technology. An advantage of the experimental and LSA market is that we are not stuck with having to keep technologies for 10 or 20 years; we can adapt immediately. Our best customer comments come from airplane pilots who also build their own planes. The technology in their homebuilts is 20 years newer than their Airbus or Boeing, something they are very proud of. But they also wish their jet had the same technology."
While not wanting to divulge what's in development, Hamilton did give some clues.
"There is still lots to do on the panel in terms of functionality and NexGen," he says. "It is not clear what all the FAA will really do, but independent of them we can add better information and control in the cockpit. Our goal is to not take away command and control from the pilot, but give him or her more information and easier and better ways to control the aircraft."
If the past is any predictor, expect more from Dynon's team of "scary-smart" engineers, led by founder Torode.
"He is always the first one here in the morning, and usually the last one out the door," Hamilton reports. "He loves working here, tinkering with new ideas and new products. He could be retired sitting on a beach somewhere, but he has no interest in retiring."
For more information: DynonAvionics.com