The latest addition to the list of items up for bid in the AOPA Foundation Night For Flight online auction is from the Commemorative Air Force (CAF), which is offering a ride in the bombardier's seat aboard "FIFI," the world's only airworthy B-29 Superfortress.
"The chance to fly aboard one of the greatest leaps forward in the history of military aviation is incredible in its own right," said AOPA Foundation President Bruce Landsberg. "But the chance to sit in the 'best seat in the house' – the bombardier's seat, right in FIFI's glazed nose … that is truly something special."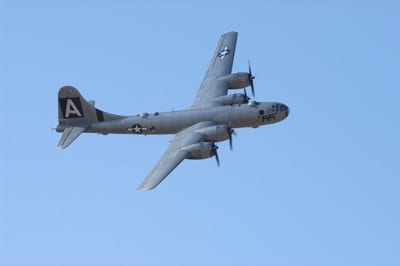 FIFI will be on display and flying at Airportfest during the AOPA Aviation Summit in Long Beach, Calif., November 11-13.
The ride in FIFI's bombardier seat is one of 90 items up for bid in the Night For Flight auction. Other items include a chance to have lunch and fly with actor Harrison Ford, a tour of the PBS NewsHour including a chance to watch a broadcast from the control room, a WACO YMF-5D open-cockpit biplane, and a day of aerobatic training with air show legend Sean D. Tucker.
Money raised by the Night For Flight online auction and benefit event will help fund preservation and improvement initiatives that the AOPA Foundation supports. The AOPA Foundation, a 501(c)(3) corporation,  funds efforts to address four key initiatives to ensure the future of GA: preserving and improving community airports; improving GA's safety record through increased pilot education; growing the pilot population to ensure GA's future; and educating the public on the benefits of general aviation.
For more information: AOPA.org