LoPresti's First Saturday Event will be held Saturday Nov. 6 at Florida's Sebastian Airport (X26), featuring Corkey Fornof, test pilot, stunt and movie pilot. The event will benefit HALO Animal Rescue.
November's charity breakfast event begins at 9 am. with coffee and full breakfast. Presentation will follow from 10-11:30 a.m. Charity donation $8.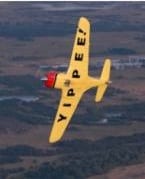 LoPresti presents one of aviation's best known aerobatic performers, J.W. "Corkey" Fornof, who will be performing and speaking about his colorful life as an aerial director in the movies, as a test pilot, and as an international performer. He will perform his air show routine in the LoPrestiFury.
Friday night at 6 p.m. LoPresti will host a movie in its hangar.  The feature will be "The Rescue," Corkey's first feature film.
For more information: LoPrestiAviation.com