Now open is Phase II of the Hangar Ten aviation services complex at the Charles B. Wheeler Downtown Airport (MKC) in Kansas City.
The two story, 26,000-square-foot executive terminal is highlighted by several crew rest areas including hotel-style pilot overnight rooms that double as day quarters. In addition, transient customers, as well as based tenants, can enjoy a fully equipped fitness center that includes separate men's and women's locker rooms fitted with showers.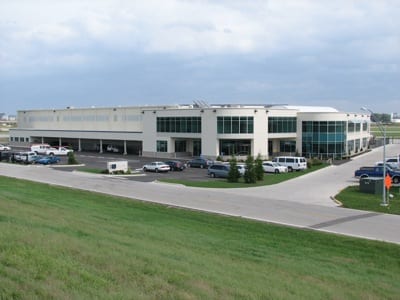 Designed to include sustainable environmental features, the complex incorporates numerous 'green' initiatives including solar water heaters, a large skylight, solar light pipes, compact fluorescent fixtures, motion detection lighting controllers, translucent wall panels, reflective wall, floor and ceiling coatings, insulated glass with Low E coatings with exterior architectural sunshades, overhead circulating fans, reflective roofs and low water use landscaping. Together, these elements will create an estimated 75-80% reduction in annual energy costs in these areas.
An integral part of Phase II is a new 29,000-square-foot hangar capable of handling Gulfstream 650 or Global Express sized aircraft. Designed by Atlanta, GA based Dye Aviation Facilities, Hangar Ten is a master planned aviation service complex situated on 10 acres. It incorporates a 40,000-gallon Jet A fuel farm as well as an extensive reinforced ramp area which will accommodate fully fueled transport sized business aircraft such as a Boeing BBJ. A third phase is planned which includes 17,000 square feet of office space and an additional 22,000-square-foot hangar.
For more information: 816-949-8900 or H10mkc.com