BBA Aviation Engine Repair and Overhaul (ERO) has unveiled its F1RST SUPPORT global technical operations center powered by Dallas Airmotive. The center utilizes integrated satellite based tracking to deliver ultra-fast and efficient response to AOG aircraft, according to company officials.
"We believe this is a game changer for the engine support industry," stated BBA Aviation ERO President Hugh McElroy. "First Support utilizes a highly integrated real-time system that can identify locations of field service technicians, rental engines, mobile response vehicles, and tooling at any given moment, any time of the day, anywhere in the world. We track the precise status of every field service job as well as the availability of our assets and personnel. By monitoring air and land based traffic as well as the impact of weather and airport delays, when a customer calls with an AOG issue, we can rapidly deploy solutions via the most efficient means and routes. This industry leading service enables us to deliver a step-function improvement over existing engine support services."
"Real-time situational awareness of our resources enables us to adapt on the spot to customer needs," continued McElroy. "Decisions on resource allocation that used to take hours to ascertain and coordinate can now be handled in seconds – while the customer is on-line or on the telephone."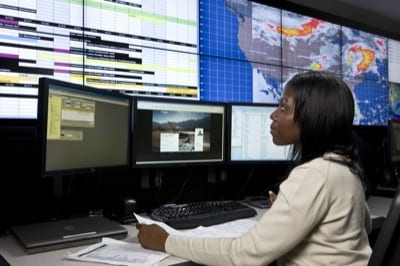 The F1RST SUPPORT center is located at Dallas Airmotive's facility in Grapevine, Texas (adjacent to the Dallas/Fort Worth International Airport). The center incorporates an array of high definition video controllers and nine ergonomic technical consoles. These consoles can operate independently or work together to merge relevant information to leverage the total power of the system.
Capabilities of the center include:
Real-time tracking of field service personnel, mobile vehicles, assets including rental engines, tooling, engine stands and containers.
Historical database uploaded to enable forecasting of events and pre-positioning of assets and personnel.
Capacities planning and overhaul shop availability are connected to the status of all active and scheduled field service work.
Merging of data sources for airport activities, weather, regional events and individual flight tracking to optimize scheduling.
Work-site integration with diagnostic equipment such as borescopes via live video streaming to enable consultation and analysis with engineering and quality assurance personnel via video conferencing.
Instant access to technical information, airworthiness requirements and reference materials to quickly support on-site demands.
"We have more than 115 field service personnel around the globe," stated McElroy. "This new command center gives us the ability to communicate with and assist any of our service personnel electronically at a moment's notice no matter where they are in the world, thereby providing ultra fast access to the full resources of our technical and engineering support personnel."
BBA Aviation's ERO group is OEM-authorized to service more than 80% of the engines in active service on the world's turbine powered business aircraft. In addition to its 115 plus field service representatives, the company operates 12 Regional Turbine Centers around the world supporting four major overhaul centers and 10 mobile service vehicles. Additional service assets and personnel are in preparation to be deployed during the 2011 and 2012 timeframe.
For more information: BBAAviationERO.com