True Flight has incorporated high-resolution aerial imagery mapping for the entire contiguous 48 states for its line of portable Flight Cheetah multi-function GPS displays.
The Flight Cheetah multi-function display will allow pilots to overlay aerial imagery providing a view of the terrain conditions below. Should an emergency happen in IFR conditions or at night and an airport is not within reach, this ability to separate areas of buildings and trees from fields could be a life-saving feature. The aerial maps are at a resolution of 6-½ meters for the entire United States. The high-resolution aerial imagery will replace the satellite imagery previously provided to True Flight customers.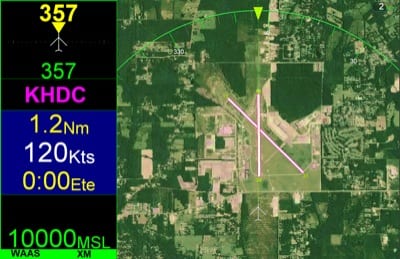 This feature will allow pilots to view the terrain below in direct relation to their current aircraft position. Pilots will also have the option to overlay any type of navigational information and/or weather on top of the aerial maps.
"I can tell you firsthand having dealt with an engine problem at night many years ago, all those jokes about waiting till you get close to the ground and turning on your landing light and if you don't like what you see turning it off loses something in translation when it is actually happening to you. The addition of high resolution aerial terrain imagery will substantially improve situational awareness and safety to new highs in aviation," said Robert Kalberer, president of True Flight.
Aerial imagery has already been released for Florida, Georgia, Mississippi, Alabama, and Louisiana. The aerial imagery will be released for the rest of the US over the next few months several states at a time.
The aerial imagery mapping option sells for $179. This mapping option will run on any Flight Cheetah GPS display as well as TrueMap software that runs on any Windows XP/7 platform.
For more information: AviationSafety.com