JETTECH has developed a new Garmin G600 Glass Panel EFIS installation specifically for Cessna Citation 501/551 series aircraft.
Pending FAA approval of its Supplemental Type Certificate (STC), JETTECH will begin offering initial installations at its Denver facilities followed by kits available through JETTECH-approved Garmin authorized dealers.
The new unit will provide pilots with the highest degree of situational awareness in Legacy Citations by adding features such as synthetic vision, terrain awareness, traffic collision avoidance systems, digital weather radar, satellite weather radar and lightning strike information, according to Rob Irwin, founder.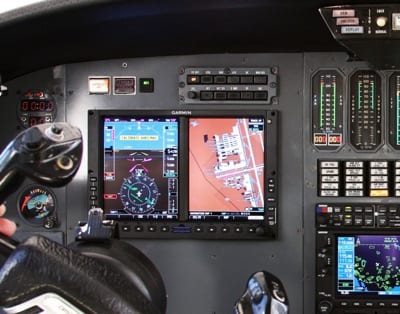 "One of the most important features of the STC is our ability to retain the existing RVSM system installed in the aircraft," Irwin explained. "By using our proprietary Air Data Interface Unit (AIU), the aircraft's existing RVSM solution will still be displayed on the copilot side as well as on the pilot side on the G600."
The installation includes additional equipment upgrades such as the replacement of the existing "Iron Vertical and Horizontal Gyros" with state of the art solid state AHRS (Attitude Heading Referencing System)
Also included in the Installation kit is an AIU, pitot-static plumbing and fittings, wiring harness, precut pilot instrument panel and complete documentation to support the installation process.
For more information: Jettechllc.net