"Brent Blue is my hero." So says Hal Shevers, GA icon, founder of Sporty's Pilot Shop, and developer of Sandy's Farm, a new airpark at the Clermont County/Sporty's Airport (I69) in Cincinnati, Ohio. He's talking about Dr. Brent Blue, founder of ThroughTheFence.org and the man many credit with getting the FAA's residential through the fence (TTF) policy enough visibility to warrant a Congressional hearing.
But Blue, a family physician, AME, and founder of Aeromedix, which sells medical and safety products for aviation, didn't set out to be a hero. His fight with the FAA began with a simple real estate transaction.
"In October 2008, the worst time in the world to buy property, I bought a hangar with an apartment," says Blue of his purchase at Driggs-Reed Memorial Airport (DIJ) in Idaho, to house his three airplanes: A Cessna 340, a 1943 Stearman 450, and a Blue Bear, a Murphy Moose-converted homebuilt that first flew in March.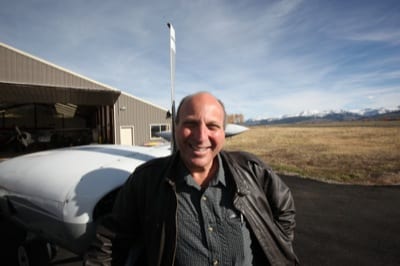 At the same time, the FAA determined that the airport needed a longer runway to accommodate jets. While FAA officials were pondering that decision, it also took the opportunity to "re-interpret" TTF, Blue said.
Late last year, in a proposed revision to the FAA Airport Compliance Manual, the FAA sought to eliminate all residential TTF agreements at public, federally funded airports, prompting many objections from the aviation community. The proposal was recently revised to allow existing residential TTF access, but ban future agreements.
This meant Blue's access was safe. "I had a pretty secure agreement," he says of the hangar/apartment, which, he notes, he has never spent the night in. But it bothered him that the FAA was making a decision to ban residential TTF access without so much as one study.
In proposing the policy change, the FAA cited a number of reasons for banning residential TTF access, including increased noise complaints from homeowners, unfair economic advantage for homeowners, possible restriction of expansion for airports, and more.
"This is an FAA fix to a problem that does not exist," says Blue. "Their lack of evidence and data is shocking given they are establishing a policy that affects the economic viability of small general aviation airports."
He created ThroughTheFence.org as a clearinghouse for TTF information and as a resource for others who wanted to join in the fight. "One of the things the FAA counts on when they propose stupid things is people not paying attention and not being organized," he said. "This helps us be organized."
Blue also went into action. He filed Freedom of Information Act requests to find out how many noise complaints had been filed by anyone with a residential TTF agreement (none in the last 10 years, by the way). The FAA had also stated that it has spent $1.8 billion to buy land to mitigate noise sensitive neighbors. "However, the FAA cannot document one dollar being spent to buy adjacent airport land to mitigate noise issues from TTF agreement holders," Blue says.
He also made some noise of his own, sending out press releases detailing his dealings with the FAA, as well as making sure he was one of the first to ask questions at public forums with FAA personnel, such as the Meet the Administrator forum at AirVenture in Oshkosh.
As the public face of TTF, Blue also got invited to testify at a Congressional hearing in September by Rep. Sam Graves (R-Mo.), a pilot and ardent supporter of GA, who had proposed an amendment to allow residential TTF access at federally funded airports.
In his remarks to the Congressional committee, Blue said that residential TTF agreements can be an income source for GA airports, noting that it accounts for half of the revenue at the Driggs airport and about 60% at Erie Municipal Airport (EIK) in Colorado. Those home owners also buy services at the airports, including fuel and, perhaps most important, "guarantee activity at an airport," he says.
He also noted that "TTF owners provide eyes on the field, especially at night when most small airports are vacant, helping increase security."
But what it really comes down to, he says, is one simple question: Who controls airports?
"The more we let the FAA take away individual autonomy at airports, the worse it will be in the long run," he says.
Sporty's Shevers agrees, noting it's unfair that some airports will be allowed to have residential TTF access and others won't. "This is how a lot of airports get started," he said, adding that many improvements to airports could only be achieved by fees paid by those with TTF access, such as the T-hangars Sporty's recently built. "There was no way we were going to make that investment on county property," he said.
Blue's crusade to protect airport's rights shows that "one person can make a difference," Shevers said. "He went out and got this done," he said. "This is an example of what we need in this country."
The comment period on the proposal closed late last month and a revised TTF policy is expected soon. Blue, who acknowledges that you "don't win or lose at a hearing," does say he believes the pro-TTF side "made some significant points," including the fact that some of the Congressmen who had "spouted the FAA line" have since come out strongly in favor of TTF activities.
For more information: ThroughTheFence.org