Civil Air Patrol is one of the first nonprofit aviation organizations to receive a $10,000 grant from the Lightspeed Aviation Foundation's new gift and grant program.
Foundation officials from the aviation headset company in Lake Oswego, Ore., made the contribution to Civil Air Patrol on Saturday, Nov. 13, at the AOPA Aviation Summit at the Long Beach Convention Center in Long Beach, Calif.
Lt. Col. Virginia Nelson of Civil Air Patrol's Pacific Region accepted the grant on behalf of CAP, which was voted as one of the top five aviation charitable organizations in America during the 2010 flying season. Twenty aviation charities were nominated as potential grant recipients, but only the top five organizations – as chosen by pilots and other aviation enthusiasts from across the country – earned the foundation's first grants.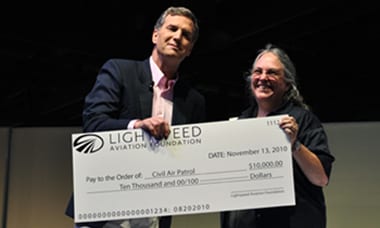 "Civil Air Patrol is indeed among the top aviation charitable organizations in the nation, and on behalf of our 61,000 members nationwide, I want to extend our collective gratitude to aviators across America who cast their vote in support of CAP's everyday heroes," said Maj. Gen. Amy S. Courter, CAP's national commander. "This grant will be used by our citizen volunteers to support CAP's congressionally-chartered aerospace education mission."
According to Allan Schrader, the foundation's founder, "All of those that were nominated are already doing 'good' for aviation. We want to come alongside to help build awareness and increase funding opportunities. And, we want to mobilize the pilot community to learn more about them and get involved."
The foundation launched the gift and grant program in May at Sun 'n Fun. Since then, more than 20,000 pilots nationwide cast their "votes" for CAP and the other grant recipients as the country's top aviation charities, each worthy of a Lightspeed grant.
Besides CAP, other 2010 grant recipients were Angel Flight Southeast/Mercy Flight Southeast, JAARS, Mission Aviation Fellowship and The Ninety-Nines.
For more information: LightspeedAviationFoundation.org, GoCivilAirPatrol.com