iFlightPlanner, LLC recently unveiled its latest release of its iFlightPlanner.com, which gives pilots free access to an array of flight planning tools. The latest release complements iFlightPlanner's Premium package designed for users who want additional safety and online logbook features.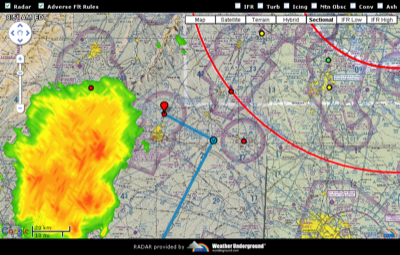 iFlightPlanner.com features a flight planning wizard that guides pilots through critical flight planning tasks, including route planning, certified weather briefs, weight & balance calculations, and filing FAA flight plans, company officials said, noting average flight planning time with the wizard requires less than 10 minutes, and upon completion, users print a customized cockpit report that contains the latest weather, communication frequencies, weight & balance results, and a detailed navigation log. To streamline flight planning, pilots have access to iFlightPlanner.com's database of nearly 500 aircraft and can add up to five different aircraft profiles to their accounts.
Andy Matthews, iFlightPlanner.com co-founder, private pilot, and professional golfer, notes, "We wanted to create a flight planning environment where pilots can be confident that they've properly fulfilled their duties as pilot in command during the pre- and post-flight planning processes. With our latest release, we've integrated the latest Google Maps API to display custom and auto-generated routes over seamless VFR and IFR charts with animated RADAR, color-coded METARs and TAFs, and graphical AIRMETs, SIGMETs, and TFRs."
Additional iFlightPlanner.com features include:
Detailed navigation logs, certified weather briefs, and flight plan filing via DUATS;
Searchable Airport/Facility Directory complete with airport diagrams and procedure plates;
Detailed Flight Instructor Directory providing CFIs opportunities to build their student base;
Full-featured mobile.iFlightPlanner.com accessible from any internet capable device.
All these features are FREE to anyone who registers for the service. iFlightPlanner.com also offers Premium memberships starting at $9.95 per month, $24.95 quarterly, or $89.95 annually, which include value-added features such as a graphical weight & balance calculator and enhanced online logbook. All users have access to iFlightPlanner Mobile via mobile.iFlightPlanner.com, a mobile interface that is accessible from any web-enabled mobile device.
For more information: iFlightPlanner.com