Joseph Kittinger Jr., who holds records for having the highest, fastest and longest skydive, will be the featured speaker at EAA's annual Wright Brothers Memorial Banquet on Friday, Dec. 17. The banquet, held in the EAA AirVenture Museum's Eagle Hangar in Oshkosh, will commemorate the 107th anniversary of the Wright Brothers' first powered flight at Kitty Hawk, N.C.
Kittinger, a former Command Pilot and career military officer in the U.S. Air Force, is best known for his high-altitude balloon flights and parachute jumps that he made while heading the U.S. Air Force's "Project Excelsior" in the 1950s. The project's goal was to solve the problems of high-altitude bailout, using a high-altitude balloon with an open gondola to travel to the edge of space before the pilot parachuted from the gondola to the ground.
On the third Excelsior flight in August 1960, Kittinger set records by climbing to 102,800 feet, approaching the speed of sound with a top speed of 614 miles per hour on his freefall that lasted 4-1/2 minutes before opening his parachute at 18,000 feet. Temperatures reached as low as minus-94° Fahrenheit during the jump, which was made without protection of an aircraft or space vehicle.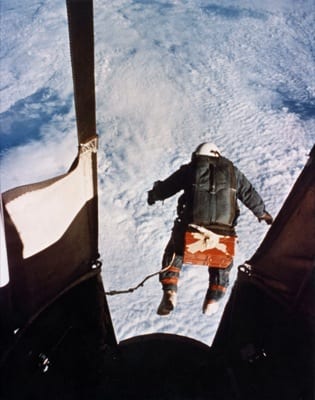 "We are very honored to have Joseph Kittinger Jr. join us as EAA celebrates the anniversary of powered flight," said Rod Hightower, EAA president/CEO. "Joseph's pioneering jumps established the potential for humans to survive in space, setting the stage for manned space programs. He has earned his place in aviation history from many different perspectives."
For his work on this project, President Dwight D. Eisenhower awarded Kittinger the C.B Harmon Trophy in 1960, and he also received an oak leaf cluster to the Distinguished Flying Cross, the J.J. Jeffries Award, the Leo Stevens Parachute Medal, and the Wingfoot Lighter-Than-Air Society Achievement Award.
Kittinger, who also was the first man to complete a solo crossing of the Atlantic Ocean in a gas balloon, served three combat tours in Vietnam and spent 11 months in captivity as a prisoner of war. After retiring from the military in 1978, he competed in various balloon competitions through the country, winning the Gordon Bennett Gas Balloon race four times during the 1980s.
For more information: AirVentureMuseum.org or 920-426-6880.