By JACK E. NEUBACHER, For General Aviation News
The skies over the Rowan County Airport (RUQ) in Salisbury, N.C., dazzled during the weekend of Nov. 12-14th with an assault of Van's RVs. More than 35 were attending a Formation Flight Clinic organized by Ron "Smokey" Schreck, with the help of other members of the famed Team RV precision flight team. The clinic is designed to practice precision flight and help pilots work towards being certified for flight in close formation.
Pilots plus instructors arrived Friday evening flying just about every model of Van's aircraft from RV-3s on up.
According to Team RV's James "Chatterbox" Clark (pictured below), a pilots attending a formation clinic must not only be proficient in their planes, rather "you must feel like you wear your airplane."
Of course each plane must be in top-notch condition and be ready to fly. There is reading material that all participants must be well versed in before arrival. This accompanies the lectures, briefing and de-briefings that go on during the three-day workshop.
Formation Flight International (FFI) is the controlling organization for these activities and oversees the certification for formation flight. During the clinic at SWR, six participants received certification cards for Wingman and two qualified for Flight Leader status, according to Schreck.
The culmination of the weekend clinic was a mass flight on Sunday morning involving 21 planes. Taking off two by two, they quickly formed up into their assigned positions, making several passes across the airport in various formations. Those not ready yet for the "group flight" rode along with other participants. When I showed Schreck photos of the mass flight formations, he smiled proudly and said, "Pretty good for some rank amateurs."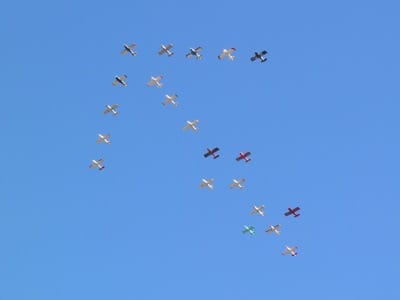 Team RV does a full schedule of "air shows" during the year, which now includes some formation aerobatics. It also fills special requests for flights, including "missing man formation flights" for memorial programs.
For more information: TeamRV.us or VansAirForce.com. You can also go to YouTube.com and search for Team RV to see some of their performances.