Most pilots know about the tradition of cutting off a new pilot's shirt tail at the conclusion of their first solo flight. Sporty's wants to help preserve the memory of this accomplishment by professionally framing the shirt tail as a keepsake.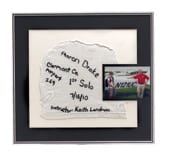 "Some pilots may not know the supposed origin of this tradition," said Sporty's Vice President John Zimmerman. "It originated in the early days of tandem-seat trainers with no radios so that the instructor would tug on the student's shirt to get his attention."
The successful solo flight meant no more pulling on the shirt tail, and therefore no more need for a shirt tail. Decades later, the custom continues.
Each shirt tail is professionally mounted on a sturdy background, then matted and framed for presentation. All framing is done by Sporty's in-house frame shop, and turnaround time is five business days.
Two sizes of frames are available. The Small First Solo Frame, available for $125, accommodates shirt tails measuring up to 12" x 18". The Large First Solo Frame, available for $150, accommodates shirt tails measuring no larger than 18" x 24".
For more information: Sportys.com or 800-SPORTYS.