Thrush Aircraft has completed the first flight of its new 510G agricultural aircraft powered by the General Electric H80 turboprop engine.
The flight lasted just over 25 minutes, during which time initial systems checks and basic flight maneuvers were accomplished, said company officials, who noted that no unanticipated issues were encountered. This first flight marked the beginning of the field test phase of the new aircraft's development program, with FAA certification planned for the second quarter of 2011.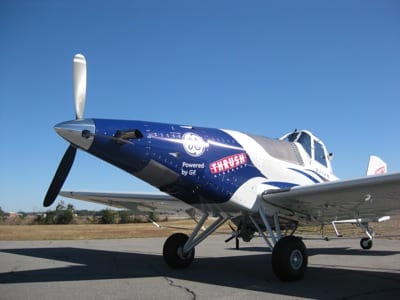 The Thrush 510G is the first new aircraft to utilize GE's new light turbine engine.
Following the flight, Payne Hughes, president of Thrush Aircraft, said: "This really is an amazing day for Thrush and for our 510G program. It's the culmination of an incredible amount of hard work from every one our employees, as well as from our friends at General Electric's aviation engine division. We're looking forward to getting the next phase of flight test underway, and to demonstrating the enhanced capabilities of this new airplane with GE power."
Brad Mottier, vice president and general manager of GE Aviation's Business and General Aviation organization, added: "The GE and Thrush teams have been working toward this milestone since engine selection last year, and today's events are a testament to this group's extraordinary efforts. This is a historic moment, as the Thrush 510G is the first application for the new H80 engine, and the first North American new engine installation for the M601 engine family."
Jody Bays, chief pilot for Thrush, piloted the aircraft on its initial flight, commenting: "It's shaping up to be a terrific airplane. We met all of our first flight objectives, and the aircraft and engine both performed exceptionally well.
Based upon the Thrush 510 airframe, the new Thrush 510G will have a hopper capacity of 510 gallons and a gross weight of 10,500 pounds. With GE's new H80 engine up front, the 510G is expected to bring a new level of performance to agricultural operations – from enhanced hot and high performance, to higher cruise speeds and increased fuel efficiency over other aircraft in the category, company officials said.
Like all Thrush aircraft, the 510G features a wing spar life of more than 25,000 hours, with no mandatory inspections of the spar required. Additional features include a tubular steel fuselage and cockpit roll cage, removable fuselage skins, and chromate-treated aluminum surfaces for corrosion prevention.
The new Thrush 510G will make its public debut at the upcoming National Agricultural Aviation Association Convention in Savannah Dec. 6-9.
For more information: ThrushAircraft.com, GE.com/Aviation