Custom tiles are finding their way into FBOs, hangars, and homes, thanks to artist Tess Barnett. After installing her tile art in hundreds of corporate offices, public buildings, and private homes, she is expanding her tempered-glass tile business to depict the best of aviation, including permanent renderings of your aircraft or logo.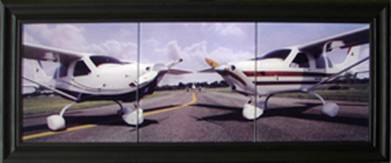 Wild Tile's image transfer process uses gasified inks that permeate the back surface of tempered glass, so the tiles can be used indoors or out; they go on the floor (even in high-traffic areas) or on the wall; or they can be fitted to a light box. "Only direct sunlight seems able to affect the images," says Barnett.
Wild Tiles come in either 6" x 6" or 12" x 12" sizes; they can be cut by experienced installation professionals; and the ultimate size of the artwork is effectively unlimited, as the image is built a square foot at a time. All tile designs are maintained by Barnett, so if a duplicate or replacement is needed, it can be available. Prices start around $65 for a 12 x 12 tile or $35 for a 6 x 6; delivery is typically about four weeks; gift certificates are available.
For more information: 818-214-0268 or WildTile.net