Plane Power Partners, Ltd. has introduced its latest FAA-PMA approved lightweight alternator kit, the AL24-FS60, which is approved for installation on most 360 and 540 series Lycoming engines on 28 volt Cessna 172 and 182 aircraft with multigroove belt/pulley drive systems.
The newest Plane-Power alternator provides owners of recent era (1996-current) Cessna 172R, 172S and 182S, 182T and T182T aircraft a vastly improved source of electrical power for their Lycoming engine-powered aircraft, according to company officials, noting the AL24-FS60 alternator runs cooler, produces more output, offers higher reliability and produces cleaner, more consistent power than heavyweight and often rebuilt OE alternators.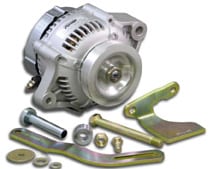 The Plane-Power AL24-FS60 is capable of producing in excess of 70 amps continuously and replaces the OE Ford, 60 amp alternator in Cessna aircraft with multigroove, belt-driven alternators. The FAA PMA permits use of all 70 amps of output if the aircraft electrical system is suitably modified to take advantage of the additional output the Plane-Power unit can provide.
Every AL24-FS60 PMA alternator kit includes Plane-Power's 70 amp lightweight alternator along with all required mounting brackets and hardware. Since the kit is FAA PMA certified as a replacement part, no STC paperwork is needed for installation, company officials said.
Price: $699.
For more information: 877-934-5700 or Plane-Power.com