For the second year in a row, US Aviation Academy has underwritten the costs for operating the Student Aviation Association at the University of North Texas.
The extra-curricular organization must be self-supporting in its efforts to involve students in networking and community outreach activities related to air transportation. US Aviation Academy makes it possible for the SAA to conduct field trips and provide speakers without charging students any kind of dues or fees.
The US Aviation Academy has also partnered with the SAA on recruiting programs at various aviation events in Texas. They share booth space at the events and promote their respective programs.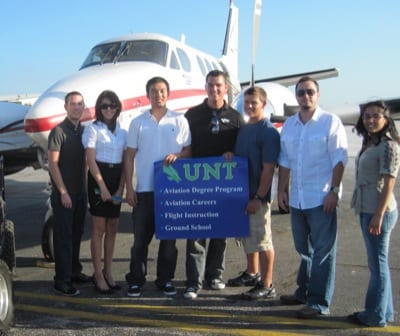 "UNT's Student Aviation Association encourages students to pursue a Bachelor of Science degree in Aviation Logistics, which is a business degree," said Mark Taylor, Executive VP of Communication and Public Affairs at US Aviation Academy. "Some of those students are eager to earn their four-year degree and become professional pilots at the same time, which makes the relationship between the two organizations productive and beneficial. Of course, many of the students will end up in non-flying careers, which account for 85% of the jobs in the aviation industry. We're pleased to help them in any way we can."
According to Dr. Steve Swartz, UNT's new aviation major "will ensure that students are fully grounded in how aviation supports movement in a global supply chain. The vision of the program is to prepare the leaders of tomorrow for an increasingly complex and challenging aviation industry. This includes aircraft and parts manufacturers, airlines, air cargo operations, general and business aviation, infrastructure and economic development and governmental agencies all operating as part of the system."
US Aviation Academy provides flight training for students from all over the world. Their program offers ratings from Sport Pilot through Multi Engine Instrument and the ATP written exam. For more information: www.USFlightAcademy.com or UNT.edu