Doing business with a one-stop shop makes a lot of sense when it comes to aircraft modifications, upgrades, and repairs. It's certainly more convenient than shuffling around to different shops for each project. It also saves money and downtime, which is why Soloy Aviation Solutions now offers in-house avionics services to its customers.
Avionics work has always been a part of Soloy's offerings, if only because the Olympia, Wash.-based company's turbine engine conversions require new instrumentation. Removing old instruments and replacing them with new turbine gauges requires removing the panel and significant wiring changes. That, of course, is a good time to upgrade the avionics stack with new GPS-based flight management systems, electronic displays, radar, autopilot, and more, Soloy officials said.
Soloy offered the service before, but because it was not an authorized avionics distributor or dealer it had to subcontract the work out. That all changed earlier this year when Soloy launched its own in-house avionics shop.
Soloy already had an experienced avionics technician on staff in Don Hall. A graduate of Oregon Institute of Technology, he has a resume that includes stints with the U.S. Army, Boeing, Hughes Air West, and Sunstrand. The private pilot also co-owned an avionics shop at Boeing Field for 35 years.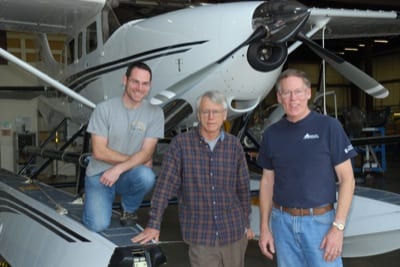 In January Soloy brought Pat Atchison and his son, John, aboard to complete the staffing for its avionics shop. The combined experience of the three technicians totals more than 100 years.
Pat Atchison earned an associate's degree in electronics at Foothill College before embarking on a 15-year career with NASA at Moffett Field. He traveled the world working on experimental projects, including configuring a C-141 for airborne astronomy and avionics installations on the prototype tilt rotor. He then spent 15 years with the FAA as an avionics inspector, following that up with a stint at a Seattle-area avionics shop doing repairs and installations.
John Atchison is an active commercial pilot and instructor and a graduate of Embry-Riddle Aeronautical University. With his experience as a pilot and flight school owner, he has become the company's go-to person for flight-testing avionics and teaching customers how to properly use their new equipment.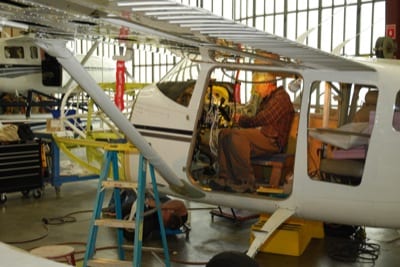 With the staff complete, Soloy acquired test equipment and original-equipment repair manuals, built wiring harnesses, and most importantly, signed up dealer authorizations with avionics manufacturers and distributors, including Garmin, Mid-Continent Instruments, TKM, Inc./Michel, Edmo, and Aviall.
The new avionics shop's bread-and-butter work is 24-month transponder certifications, but it has the capability to do any avionics installation and repair work, specializing on general aviation aircraft under 12,500 pounds.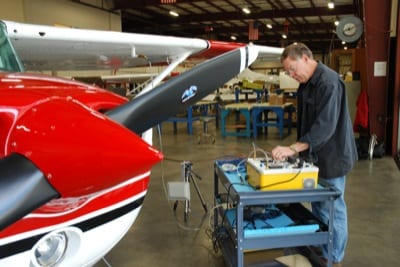 "Our vision to become a leading technology company has taken a big step forward with the establishment of our in-house avionics shop," says Dave Stauffer, Soloy's CEO. "Along with reliable, high-performance power and a compatible airframe, state-of-the-art avionics are a crucial factor in extracting maximum potential and safety from today's aircraft and pilots. The importance of the combination cannot be understated and we are very pleased that customers can now count on Soloy to deliver the complete package. It's in our name: Soloy Aviation Solutions. This is another major step in growing the company by offering new services and new technologies."
For more information: Soloy.com