Electronics International has recently obtained a Primary Replacement STC for the twin version of its MVP-50 Glass Panel Engine Monitoring package.
Designed with an easy-to-comprehend consolidation of engine parameters displayed on its 5.5-inch x 5-inch monitor, EI's multi-functional engine instruments reduce the time usually required to scan a panel of scattered and antiquated engine instruments, company officials said. Older needle gauges are notorious for inaccurate readings, and they don't offer any methods for visually or audibly alerting a pilot when parameters creep into redlines and cautionary zones. The Electronics International Twin MVP-50P provides the pilot with significant improvements in safety by displaying each engine's operating parameters and trends in digital and full bar graph representations in easily distinguishable colors. If any function being monitored by an MVP-50P moves into a yellow and/or red line, the issue is annunciated on the MVP-50P, and also by external warning lights. This grabs the pilot's attention, and allows them to immediately take action to remedy the situation. Visible and vocal alerts and warnings are clear, concise and pilot programmable.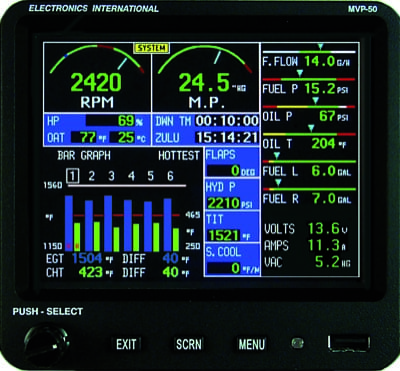 The MVP-50 offers an suite of features beyond its engine monitoring capabilities. Leaning an engine with an MVP-50P is done with consistent precision and dependability, and engine diagnostics are right at a pilot's fingertips. Each cylinder's EGT and CHT are displayed in a large bar graph, coupled with Rich of Peak and Lean of Peak Lean modes. These modes inform pilots of where each cylinder is operating in regards to Peak EGT. In addition, the MVP-50P's RPM and Manifold Pressure displays allow the pilot to precisely sync both engines, company officials said.
The MVP-50P also provides volts and amps monitoring, pilot-customizable checklists, data recording, an onboard fuel totalizer, fuel level monitoring, weight and balance envelopes, programmable timers and clocks, custom information screens and more. Some of the optional features include G-Meters, any engine temperature, any pressure, Carbon Monoxide monitor, Vacuum Pressure (wet or dry), and Airspeed.
Twin aircraft packages arrive with two complete monitoring packages; one for each engine. Retail prices begin at $12,990 for a certified four-cylinder package and $13,970 for a certified six-cylinder package.
For more information: Buy-EI.com or 541-318-6060.