Greg Brown's book, "The Savvy Flight Instructor: Secrets of the Successful CFI," has just been released for Kindle.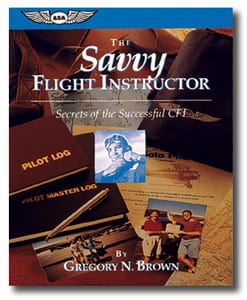 Rather than teaching piloting techniques, The Savvy Flight Instructor addresses all those "other" flight instructing questions, like how to recruit new flight students and how to keep them flying; how to overcome learning plateaus; and how to optimize your pass rate on checkrides, according to Brown.
Along with tips on attracting and retaining clients, this book is about flight instructor professionalism: how to increase your students' skills and satisfaction, while promoting general aviation in the process, he added.
Already available in multiple e-book formats are Brown's "Flying Carpet: The Soul of an Airplane," and  "And You Can Fly!" (coauthored with Laurel Lippert). Click here for more information.