If you are looking for a book that shows the contributions of African Americans to aviation, telling as well of their challenges and grit, "Black Wings: Courageous Stories of African Americans in Aviation and Space History," is for you.
Written by Von Hardesty, a curator at the National Air and Space Museum, the book begins by noting that aviation was born during the era of Jim Crow laws and mandated racial segregation. Many African-American aviators learned to fly in France, then came back to the United States to start flying clubs and training programs which, like so much else at that time, were segregated.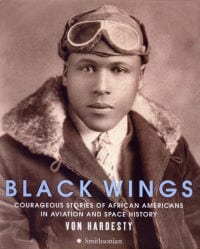 Some of those first pilots went on to train the Tuskegee Airmen, the all-black 99th Fighter Squadron, during World War II. Just a few years before the Tuskegee Airmen got their wings, the Army Air Corps resisted segregation, insisting that blacks lacked the aptitude to fly.
This book chronicles the strides made after the war to force open the door that the Tuskegee Airmen had cracked with their service.
The military continued to be a proving ground for African Americans to distinguish themselves in aviation, but great strides were made in civilian aviation, as well, by men who were designers and engineers.
The book concludes with entries about African-American astronauts noting that, had it not been for those who came before and opened those doors, they would not have made the strides they continue to make today.
Published by HarperCollins Publishers in association with the Smithsonian National Air and Space Museum, the 180-page book sells for $21.95. It is available at online as well as brick and mortar book stores.