LiveAirShowTV got a rare opportunity to get an inside look at the only Sikorsky UH-60 Blackhawk simulator at Fort Hood, Texas. Chief Warrant Officer 2 Bryan Lee, son of LiveAirShowTV President Jeff Lee, arranged for "flight time" in this full motion simulator.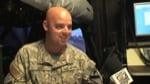 "This kind of training has been instrumental during our experience as Army Aviators," said Lee (pictured). "In many respects it's identical to flying up in the air. The biggest advantage is that we can practice emergency procedures without putting us or our aircraft in danger."
The hour-long flight was supervised by simulator instructor George Henderschott, who explained many of the situations he often throws at these pilots.
The story can now be seen at LiveAirShowTV.com Click on the top story in the video column on the left side of the home page. Select 720p HD for best viewing, officials advise.
As the New Year rolls around, other stories on LiveAirShowTV.com include a return to the Reno Air Races and Will Whiteside as he was poised for a showdown with Steven Hinton and Strega. More stories are in the works including John Penney and his daughter Heather Penney racing at Reno, legendary aviator Clay Lacy, and air show performers and others on their first air show experiences, according to officials.
Plans and preparations are already underway for coverage of the 2011 season, officials add, noting the centerpiece of this year's coverage will be the Centennial of Naval Aviation.
For more information: LiveAirShowTV.com