Most families have stories that are passed down generation to generation, but rarely shared with the public. But sometimes the story must be shared. Such is the case of John Tippets of Alaska and his book "Hearts of Courage."
Between the covers of the paperback book, Tippets documents the airplane crash his father, Joseph Tippets, survived in Alaska in the winter of 1943.
The elder Tippets was en route from Seattle to Alaska aboard a Lockheed Electra flown by experienced bush pilot Harold Gillam. Gillam, well-known in Alaska, was quoted as saying that "The weather is never as bad as it looks," but he knew only too well how quickly it can change. On Jan. 5, 1943, the weather deteriorated rapidly. At the time instrument flying was done by radio and voice navigation, but because it was war time, the flight was forced to maintain radio silence.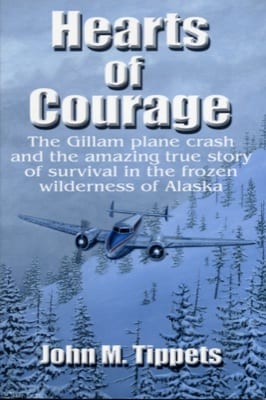 Because of this, Gillam did not know exactly where he was when the engines began to lose power. He could not transmit their location in remote Southeast Alaska. His only radio message before the crash was, "one engine has conked out, expect trouble." The airplane went down in rugged terrain. Of the six people on board, four survived the crash, and lived in the forbidding wilderness for a month.
Even today search and rescue missions in Alaska are hazardous. Combine the comparatively primitive technology of the 1940s with one of the worst winters in decades and you have a harrowing story of survival.
The book contains colored photographs of the crash site. Looking at the wreckage you wonder how anyone lived through it.
Tippets tells the story in his father's words and notes that his mother, Alta, never gave up hope that her husband was alive, and that he would make it home to his family.
On Feb. 3, the crew of a small Coast Guard vessel on a routine patrol was stunned to discover two starved and freezing survivors of the missing plane. One of those survivors was Joseph Tippets.
Hearts of Courage is published by Publication Consultants and is available at online booksellers and at JohnTippets.com.