The new issue of FAA Safety Briefing celebrates the publication's 50th anniversary by looking back on the state of General Aviation safety and highlighting a half century of safety focus and progress.
The magazine, initially called FAA Aviation News, was first published in January 1961, just three years after the creation of the FAA. Its purpose was "to acquaint readers with the policies and programs" of the FAA. While the look of the magazine has changed, the inaugural issue's core message of safety awareness and education has remained constant, officials said.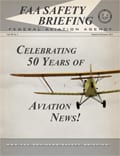 Building on the tremendous safety strides the FAA and GA community have made to reduce fatal accidents (see the article "The Evolving Art of Aviation Safety"), this issue of FAA Safety Briefing outlines the agency's plan to further reduce the fatal accident rate by reaching out to and working with the GA community.
This issue also helps pilots recognize that managing risk is the foundation for safe flying from both a theoretical and practical sense. In "Building Blocks and Safety Circles," editor Susan Parson helps readers get their head around safety rules, safety realities, and the concept of safety risk management to build a barrier to accidents. The issue looks at "Safety from the Ground Up," providing pointers for ramp safety. And there is a guide to the "Small Cost, Big Benefits" of aircraft safety enhancements that can mean the difference between life and death in the event of an accident.
You can read the 50th anniversary issue of FAA Safety Briefing here.