FlightSafety International has named David Glass manager of the company's Learning Center in Houston, Texas.
"David has made a significant contribution to our centers in St. Louis and Toledo and we look forward to him returning to Houston as manager," said Greg McGowan, Vice President, Operations.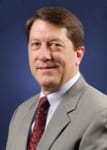 Glass joined FlightSafety in 2004 as an Instructor and Training Center Examiner at the Airline Learning Center in St. Louis, Missouri. He was promoted to Director of Standards in 2006, served as an FAA Designated Training Center Evaluator for the Embraer 170 training program, and served as Assistant Manager of the Houston Center prior to being promoted to Manager of the Detroit Metro/Toledo Learning Center in 2009.
He served in the United States Marine Corps on active duty for 12 years and in the Reserve for 10 more; as a joint staff officer, forward air controller, aircraft safety officer and squadron standardization pilot. He retired with the rank of Lieutenant Colonel and then flew for Trans World Airlines and American Airlines and was an FAA Check Airman. His type ratings include the McDonnell Douglas DC-9, Boeing 757/767 and Embraer 170/190 aircraft.
He holds a Bachelor of Science Degree in Business Administration from Colorado State University and a Masters in Management from Troy State University. He also attended the Naval Post Graduate School.
For more information: FlightSafety.com