Aurora Flight Sciences' "Centaur" aircraft has received a Special Airworthiness Certificate from the FAA.
Based on Diamond's DA42, and powered by two diesel engines, the Centaur is being developed as an "Optionally-Piloted Aircraft" that can fly as an FAA-certificated aircraft for operations inside the National Airspace System with the ability to be reconfigured for robotic, unmanned operations when extended performance is needed or when operations are too dangerous for manned aircraft, according to company officials.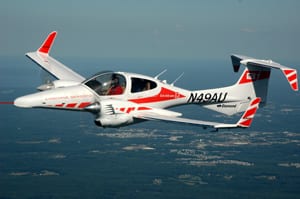 "Receipt of the Experimental ticket is a significant step forward for the Centaur program," said Tom Clancy, Aurora's Vice President and Chief Technology Officer. "This will allow us to begin the flight test program in the near future."
Development of the Centaur began in 2009. First deliveries are anticipated in 2011.
For more information: Aurora.aero