SportairUSA, LC, has completed installation and flight testing of the iMonitor EMS system by TruTrak Flight Systems in the new Savage iCub bush plane. The system accepts engine performance information from engine sensors to an Engine Data Module (EDM) and then transmits each line of data through an on-board wireless to any iPad or iPhone running the TruTrak iMonitor software.
"It is very easy to interpret and displays an amazing amount of data simultaneously to both pilots," said Bill Canino, president of SportairUSA. "Even our mechanics can read the engine information while standing outside of the aircraft."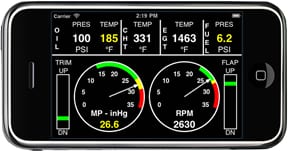 The iMonitor Engine Monitoring program is a wireless iPad/iPhone/iPod Touch Application, available for 99 cents from the Apple iTunes App Store. The app allows multiple devices to be on the network at the same time.
Andrew Barker, COO and TruTrak General Manager stated, "The iMonitor is as powerful and reliable as our other EMS systems. It is just what you need for panel space saving and will continue to grow with added features and abilities."
TruTrak Flight Systems, Inc. has released the iMonitor and the TS-83 Wi-Fi/USB Module for use with its EMS systems. The TS-83 gives full data logging ability to the EMS system as well as 'black box' recording. EMS data is recorded onto a USB flash memory device inserted into the TS-83. The 'black box' recording feature stores the last 15 hours of flight information in internal memory. In addition, the module broadcasts the EMS data via an ad-hoc Wi-Fi network. The aircraft mounted Wi-Fi also allows faster data transfer speeds.
To see a video of the iMonitor in action click here.
The following engine information can be included in the iMonitor display:
RPM,
Manifold Pressure,
EGT (9 possible) + Peak,
CHT (9 possible),
Oil Temperature,
Oil Pressure ,
Volts,
Amps,
Outside Air Temperature,
Flap Position,
Pitch Trim Position,
Lateral Trim Position,
Contact 1, Contact 2, Contact 3.
Fuel Pressure,
Fuel Level 1, Fuel Level 2,
Fuel Flow,
Fuel Totalizer,
Hours Remaining,
Range Remaining,
Set Remaining Fuel.
Select Between: Carburetor Temperature, Turbo Inlet Temperature, or Air Pressure.
Timers: Aircraft Time, Engine Time, Oil Time, Zulu Time, Local Time, Trip Time, Leg Time, Reset Oil Time, Reset Trip Time, Data Logging (USB) and internal Red Line Logging.
For more information: 888-FLY-SLSA, icub.aero, 866-TRUTRAK, or Trutrakap.com