Wicks Aircraft Supply is now selling in-flight ice protection fluid by Kilfrost.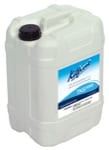 The TKS ice protection system protects aircraft from in-flight icing by pumping chemical through porous metal structures that form the leading edge of the wing. Propellers, windscreens and tail surface can also be protected by the de-ice fluid.
TKS 406B contains a mixture of glycol and alcohol and offers ice protection capability with a freezing point below -76° Fahrenheit or -60°C. TKS 406B can also be applied to remove frozen deposits of snow, ice and frost from stationery aircraft on the ground. The liquid is available in 2.5 and 5 gallon containers.
For more information: WicksAircraft.com or 800-221-9425.