FlightPrep has released an update to its iChart application, making it available on the iPhone.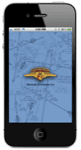 Pilots can now turn their iPad, iPhone or iPod Touch into an Electronic Flight Bag (EFB), giving them access to Sectionals, Terminal Area Charts (TACs), Low Enroutes, and Approach Plates – all at their fingertips.
Available in the Apple iTunes App store as a free download, iChart comes with a 30-day trial subscription. An annual subscription service of $49.99 is required to keep the navigation data up-todate after the trial period. Current Full US-CONUS VFR+IFR subscribers can use their existing subscription with the iChart application at no additional charge.
For more information: FlightPrep.com or 503-678-4360