"How hard can it be?" You've probably heard this remark, or a variation of it, when hangar flying conversations turn to the topic of formation flying.
FAR 91.111 states that no person may operate an aircraft so close to another aircraft as to create a collision hazard, and no person may operate an aircraft in formation flight except by arrangement with the pilot in command of each aircraft in the formation. However, the FAR doesn't go into detail as to what the arrangement — as in a briefing — should entail.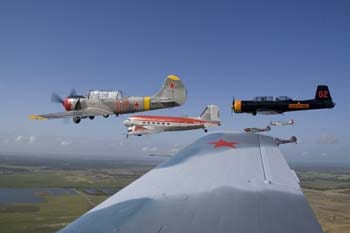 Many pilots learn to fly in formation through military service. In the civilian world, the Formation And Safety Team provides a clearinghouse for training.
"The Formation And Safety Team, also known as F.A.S.T, was originally established as a Warbird organization, but has expanded over the years to encompass some GA aircraft oriented organizations as well," explained Mike Filucci, the past president of FAST and a check pilot for the RedStar Pilots Association, a formation flying group that uses aircraft, such as Yaks and Chinese CJs, from current and former Communist block nations.
Other groups listed on the FAST website are military restoration groups, such as the Commemorative Air Force and North American Trainer Association, as well as civilian groups like the Swift Formation Committee. All provide formation flying clinics around the country a few times a year.
The FAST program begins with four hours of ground school, according to Filucci, who noted that pilots are expected to have put in several hours of study prior to their arrival.
"The student is expected to come to the ground school having studied his or her signatory's formation manual and associated material," he said. "Upon completion of ground school, we take to the air in two-ship formation with an instructor paired with each student in the student's airplane. Once the student is proficient and safe in two ship, he or she is released to fly solo in two ship. Once proficient in two ship, the student progresses on to four ship training."
Formation flying is harder than it looks from the ground. The pilot has to maintain positive aircraft control and spacing from the other ship or ships. The lead pilot calls the moves. Focus is key. Everyone has to be on the same page, so to speak, or else it can be deadly.
Once the student is judged to be safe and proficient, he or she is recommended for the checkride. How long does it take to become safe and proficient? That depends on the pilot, said Filucci.
"Like all flight instruction, the speed at which a student progresses varies based on experience and capability," he said. "I have seen a pilot move very rapidly through the training and I have also seen others take months and even years to get checked out. The main limiting factor, of course, is that you cannot go out and practice this on your own — you need at least one other pilot and aircraft, plus an instructor until you are cleared to fly solo."
It doesn't take a special airplane to fly formation, but some designs are better than others, he added.
"The ideal airplane is maneuverable, responsive, and has good visibility — the low-wing, bubble-canopy Warbird suits the purpose very well," said Filucci.
For example, in the Pacific Northwest, a lot of the formation flying is done by a group of Van's Aircraft owners known as the BlackJack Squadron. They fly RVs and are a favorite act during the Arlington Fly-In held every July. Squadron members are identified by playing cards painted on the tails of their airplanes. The members often practice in small groups before they meet at the Arlington show. On the day of the performance there is a sit-down briefing. All the pilots have a playbook of sorts that shows a diagram of each formation.
No matter what kind of airplanes are involved, it is the job of the wingman to form up on the lead airplane.
"Maintaining position in formation is predicated on triangulation — the wingman uses sight-lines from several points on the lead aircraft to reference position," Filucci explained. "Each aircraft in FAST has established sight-lines that are used. The references are typically easily-distinguishable features on the aircraft, like lining up the prop spinner with a flap hinge. By establishing two or three of these references, you can fix your relative position in space very precisely."
During the formation, communication is done through radio calls, hand signals (like a pushing out motion to indicate the wingman should back off), and aircraft signals, such as the yawing of the tail to communicate.
The FAA does not have rules about how much flight time a pilot must log to maintain proficiency to fly formation, with the exception of flying formation in waivered airspace, such as at air shows. But that doesn't mean pilots can be lax in their training and practice.
"The FAST program is unique in that it is an FAA-sanctioned program, but not an FAA-regulated program," said Filucci. "Within FAST, there are specific, defined requirements for check rides and for maintaining currency."
During air shows and fly-ins it is not unusual for aircraft owners who are members of formation flying organizations to take time to practice and get re-current before they perform.
Take, for instance, last summer at Oshkosh when Mike Weinfurter from Rhinelander, Wisconsin, and Bill Finney from Muncie, Indiana, spent a morning in their Cessna L-19 Birddogs so that Finney could regain his formation currency before the aircraft were to be featured in the Warbird showcase that afternoon during AirVenture.
The men belong to the Joint Liaison Formation Committee and teach formation in liaison aircraft and other light/primary/basic trainers around the country, Weinfurter said, noting Finney flew O-1 Birddogs during his time in the service and was a RU-21 pilot in Vietnam.
Weinfurter, who is four-ship lead qualified and has been a formation instructor for 15 years, smiles at the thought that only low-wing aircraft with bubble canopies can be used in formation flying. The L-19 is a high-wing design with tandem seating.
"We've proved that thought wrong time and time again," he said. "People trained by the Joint Liaison Formation Committee have been complimented repeatedly for doing what's asked of them, on time, safely, and very well."
Weinfurter was gracious enough to allow me to ride along on the formation flight for that day.
The flight began with a briefing over breakfast. Weinfurter would be lead first. Maneuvers to be practiced included cross under, lead change, echelon, under run (used to maneuver away from aircraft during a botched formation rejoin), and landings.
Weinfurter handled radio calls as we navigated our way on the ground during AirVenture, getting from the Warbird parking area to the runway. Formation practice is done early in the morning, because the airspace gets busy with arrivals.
With the permission of the Warbird tower, we launched as a flight of two. Practice began as the throttle came forward. As wingman, Finney's aircraft was behind and slightly to the right of Weinfurter's orange-trimmed airplane.
The pair headed away from Wittman Regional Airport. Weinfurter used hand signals to tell Finney what discreet frequency to pull up, and they were in voice contact. Yawing the tail was also used to communicate.
If you ever get the chance to fly as an observer during a formation training flight, take it. It is impressive to watch. The wingman appears to be tethered to the lead airplane. When Finney passed over us on Weinfurter's command, I watched him through the skylights of the Birddog and got a chill as the shadow passed over us. I noted that Weinfurter's head appeared to be on a swivel. It seemed to me that he and Finney maintained eye contact throughout each maneuver. Finally they were done. Weinfurter signaled this by putting his left hand to his mouth fingers first and letting go with a kiss, as if saying Viola!
Although there's something particularly special about flying in formation with Warbirds at AirVenture, you don't necessarily have to go far from home to be trained.
"Just about all the signatories conduct training clinics all across the country at various times during the year, with the summer flying season being the most active," said Filucci. "Some signatories are more exclusive, so if you don't fly a Stearman, don't show up at a Stearman flight clinic flying a C-172. Other signatories are more open and will conduct training in just about any aircraft — as long as that aircraft can be suitably matched with another, similarly configured and performing aircraft. Private training is also available. This normally entails getting at least two students together with their similar airplanes and matching them with two instructors."
For more information: FlyFast.org