The Douglas A-26 Invader "Feeding Frenzy" attack bomber aircraft, a highlight of Lyon Air Museum's collection, will rumble out of the museum's hangar at John Wayne Airport in Southern California, roar down the runway and take to the air at  noon on "A-26 Day," Sat., Feb. 12, weather permitting.
"A-26 Day" is part of Lyon Air Museum's ongoing series of regularly scheduled "Fly Day" events staged to share up-close and personal with the general public the museum's historical military aircraft in action.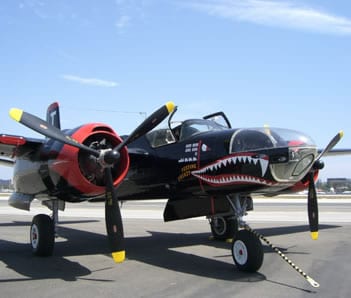 "The 'Feeding Frenzy' has had a long and successful service life dating back to World War II, and this is a unique opportunity for museum visitors to get a rare glimpse of the plane flying," said Mark Foster, president of Lyon Air Museum. "Our 'Fly Day' events are a memorable attraction for everyone who attends."
A twin-engine, propeller-driven light attack bomber, the museum's Douglas A-26 Invader has a distinctive black fuselage featuring a glass nose. "Feeding Frenzy" wears Korean War colors and is adorned with a shark-face nose art motif.
"Feeding Frenzy" was built at the end of World War II, spent time flying with the French in Indochina (modern day mainland Southeast Asia) in the 1950s, and was later operated by the Hughes Tool Co. It is reported that Howard Hughes himself flew this airplane, museum officials note.
The 30,000-square-foot Lyon Air Museum opened in December 2009. The facility represents the fulfillment of a dream of Maj. Gen. William Lyon, USAF (Ret), who held the position of Chief of the U.S. Air Force Reserve from 1975 to 1979. Currently, Lyon is Chairman of the Board and CEO of William Lyon Homes, Inc., Newport Beach, Calif. His passion for aviation history and youth education is the driving force behind Lyon Air Museum.
For more information:  LyonAirMuseum.org