Sporty's has partnered with ForeFlight to produce a new Plates app for the iPad.
With Plates, pilots can carry every US approach plate on every flight, and save more than 90% off the price of paper charts, Sporty's officials said.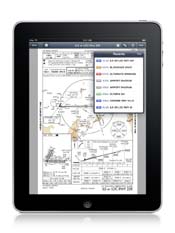 Both Sporty's and ForeFlight were founded by pilots for pilots, so the companies focused on creating an app that would be at home in the demanding environment of a general aviation cockpit, officials said. Quick-access features like Night View and the Favorite Plates List reduce button pushing and save pilots time in the cockpit.
A search function helps pilots find the right chart in just seconds, and the charts for each airport can be viewed in either a grid or list layout, officials said. With the iPad's pinch-zoom feature, users can enlarge the chart with a simple hand motion. This is ideal for viewing frequencies, altitudes or notes. The screen can even be locked to prevent accidental zooming.
"As the FAA's largest chart distributor, Sporty's is always looking for new ways to deliver charts to the cockpit," says Sporty's Vice President John Zimmerman. "We are thrilled to partner with ForeFlight, because with Plates, pilots finally have a way to use electronic charts without sacrificing readability or ease of use."
Keeping the charts updated is simple with Plates, too. The app notifies users when updates are available, and every chart can be automatically updated with the tap of a single button. New charts are delivered over the iPad's WiFi or 3G connection.
Plates includes all AeroNav (FAA) approaches, arrivals, departures and airport diagrams for the entire United States. Pilots can print charts directly from the app during pre-flight, or use it in the cockpit. Plates is a legal replacement for paper charts for pilots flying under FAR Part 91.
"This is the app for pilots who may have never considered using an iPad in the cockpit or who want a simple, elegant plates app that is backed by fanatical support and ForeFlight's reliable delivery technology," says Tyson Weihs, founder and principal Developer of ForeFlight. "You don't have to be a computer expert to use it, and the update process is so automatic that it's nearly invisible."
A fully-functional free 30-day trial is available by downloading the app from the iTunes App Store. A complete annual subscription, including unlimited downloads, is $59.95.
A demo video of the Plates app is available on Sporty's website.
Now celebrating its 50th anniversary, Sporty's has grown from a one-man operation launched by Hal Shevers to the world's largest pilot shop and an iconic general aviation brand. Sporty's operations extend to airport management, avionics installation and repair, aircraft maintenance, a residential airport community, new aircraft sales and flight training, including for the University of Cincinnati's professional pilot program. Located at Clermont County/Sporty's Airport (I69), Sporty's is philanthropically dedicated to expanding the general aviation community with both pilots and skilled technicians.
Founded in 2007, ForeFlight builds apps for pilots, including its flagship product, ForeFlight Mobile HD, which was ranked by Apple, Inc. as the top grossing iPad app of 2010 in the iTunes App Store's Weather Category. For more information:  ForeFlight.com