Wicks Aircraft Supply has dedicated its 2011 catalog to EAA Founder Paul Poberezny. The free catalog will be available at the Sun 'n Fun Fly-In, which begins March 28. Paul will be at Wicks' booth each day to sign catalogs.
Expanded this year, the catalog features tools, materials, new products and instructional media for homebuilders, restorers and general aviation aircraft owners.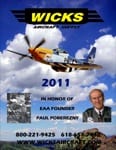 "EAA is catering to a much broader audience these days and we don't want to forget what led to the formation of EAA and what caused that vital 'base' to grow so much in its first half century," says Scott Wick, president of Wicks Aircraft Supply. "It was Paul Poberezny who started EAA in 1953 and provided the leadership that caused it to grow into the most dynamic organization in the world as far as sport and recreational aviation goes. So, we're pleased to salute Paul and his contributions on the cover of our new catalog."
People can place their orders now for the 2011 catalog, though Wicks will not begin shipping them until the end of March. To order one of the new catalogs write info@WicksAircraft.com; visit WicksAircraft.com or 800-221-9425.