Deb McFarland is the proud owner of Lester, a 1948 Luscombe 8E, and part of the "Front Porch Gang" at Pickens County Airport in Georgia.
Young Bobby Burns was infatuated with flying and airplanes, and on his 13th birthday his parents fed the fire with a 10-minute flight in an Aeronca Champ at San Fernando Airport in San Fernando, Calif. He was prepared. He had memorized a little book called "Let's Fly," and when the pilot of the Champ gave him the controls, he was sure Bobby had flown before.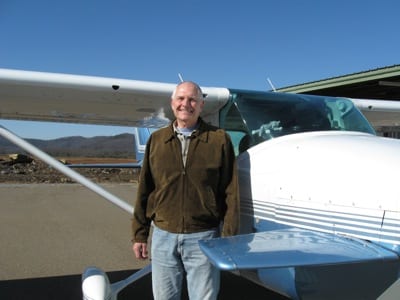 Growing up in Glendale, Calif., an area rich in aviation history, was wonderful for a boy who kept his eyes turned to the sky. His home was a 10-minute bike ride from Grand Central Air Terminal. Google this airport and you will find a wealth of information about the many aviation legends — Lindbergh, Earhart, Hughes, Northrop and Kinner, just to name a few — who left their marks here. That doesn't include the Hollywood celebrities who used the elegant terminal as a movie set and departure hub.
After that first flight, young Bobby Burns haunted Grand Central and befriended the mechanics there. A year later, his enthusiasm paid off. He was hired as a line boy and turned his 75 cents an hour into flying lessons.
On his 16th birthday, Bobby cut class with his parents' approval and his dream of becoming a pilot was fulfilled when he soloed six airplanes in one day.

The local paper cited his accomplishment under the banner "Youth Solos in Six Airplanes on 16th Birthday." If flying an Aeronca Champ, a Cessna 120, a Cessna 140, a Cessna 170, a Cessna 180, and a Luscombe were not enough, he also took and passed his driving test as well.
Bobby told the reporter that he planned to pursue a flying career after graduating from Glendale College and that is just what he did. At 17, he got his private. At 18, he followed with his commercial and instructed until Grand Central closed in 1959. Wartime had brought a plethora of aviation activity to Grand Central, but after the war the airport was shortened, returned to private use, and the heyday of the 1920s, 30s and 40s gave way when the more modern Los Angles Airport (later known as LAX) began commercial operations.
He graduated from college and, since the airlines weren't hiring, fulfilled his two years in the Army in a non-flying position. After his time in the military, he did contract flying in DC-3s and DC-4s for a year until April 1965, when he was hired by Delta and his dream of flying for the airlines became reality. He was 22 years old.
For 35 years, Bob Burns flew from hubs in Atlanta, New Orleans, Cincinnati, and Miami, and loved every minute of it. After retiring from Delta, he flew in Europe for a couple of years and then flew corporate for nine years out of the Atlanta area. He started instructing in July 1959, finally retiring for good in July 2009, giving him 50 years of flying for a living, a good investment return for that first 10-minute flight so long ago.
Bob remained active in general aviation during his years with the airline. For some time he owned a partnership in a flight school, giving him access to many different airplanes. Over the years he owned several, including a Cessna 180, Grumman Tiger, Seneca, Cherokee Six, Cessna 195, and his current C-182 Skylane.
By far his favorite airplane is his current 1976 Cessna 182P, "Elsie," named after his mother because she loved to fly. The airplane is "not fast, not slow, has good range and is comfortable," say Bob, who is tall. "A great solid airplane."
Bob's baby is not just your average Skylane. Elsie came to him with the Petersen Performance Plus conversion, including the eye-catching canard, which drops the stall speed to 35 knots. He added a new IO-520, three-bladed blended airfoil prop, Garmin 430 and S-TEC autopilot. These additions "make a stable airplane even more stable" with tremendous takeoff and landing performance. For those of us at the airport who watch her fly, these modifications make Elsie one cool airplane.
In retirement, Bob keeps busy managing eight cats (although he isn't sure who manages who in this relationship), and he is also a very active member of the Front Porch Gang here at Pickens County Airport. Airport Bum is a position that sits well with him.
This January, young Bobby Burns turned 70. The kid from Glendale now remembers those years of flying with the airline as golden years. He often wonders what would have happened if his family hadn't moved from Washington State to California, a move that literally changed a young boy's life. Maybe he would have followed a career in aviation without the move. Maybe not.
Either way he can't imagine a life doing anything else.
Deb can be reached at ShortFinal@generalaviationnews.com