The world's only operational fifth-generation fighter aircraft – the F-22 "Raptor" – will return to the Sun 'n Fun International Fly-In & Expo, which will be held March 29-April 3 on its campus at Lakeland Linder Regional Airport (LAL) in Florida. Considered the U.S. Air Force's newest fighter aircraft, the F-22 Raptor utilizes a combination of supersonic speed, stealth technology, a "see-it-to-believe-it" maneuverability, integrated avionics and improved supportability that represents an exponential leap in warfighting capabilities.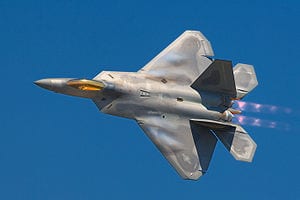 "We were honored to be the first civilian aviation event to host this amazing fighter jet and we are honored to welcome it back to Sun 'n Fun this year," said Sun 'n Fun President and Convention Chairman John Burton. "Whether or not you've seen the Raptor fly before, it will be well worth the effort to see it fly at Sun 'n Fun. Fighter jets are capable of some pretty amazing things but this aircraft exceeds even the highest expectations. We can't wait to see it fly again!"
The Raptor made its public debut at the 2006 Sun 'n Fun Fly-In after previously flying at several military air shows and installations. The sleek, high-tech military jet will take to the skies above Lakeland on Friday, Saturday and Sunday, April 1, 2 and 3.
The aircraft is powered by two Pratt & Whitney F119-PW-100 turbofan engines with afterburner that generate 35,000 lbs. of thrust per engine. Each engine incorporates "pitch axis thrust vectoring," which greatly enhances the Raptor's performance characteristics – especially its ability to turn on both the horizontal and vertical axes.
The Air Force considers the F-22 a critical component for maintaining America's tactical air power superiority worldwide and claims the aircraft is unmatched by any current or projected fighter. Lockheed Martin, the prime contractor who is responsible for the majority of the Raptor's airframe, weapon systems and final assembly, claims that the Raptor's combination of stealth, speed, agility, precision and situational awareness, combined with air-to-air and air-to-ground strike capabilities, makes it the best overall fighter in the world.
The Raptors flying at Sun 'n Fun this year will be piloted by members of the Air Combat Command F-22 Demonstration Team at Langley Air Force Base. The team performs precision aerial maneuvers.
For more information: Sun-n-Fun.org