Just introduced is the MPS 35C 3-Channel RVSM Air Data Test Set, a fully RVSM compliant test set capable of controlling three pressures separately and independently — static, pitot, and angle of attack.
The test set is designed for flightline use with aircraft that incorporate pneumatic AOA measurement. The angle of attack pressure can be displayed either in pressure units or directly in degrees of AOA with 0.1° resolution, according to company officials.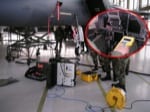 The MPS35C is equipped with internal rechargeable batteries that provide four hours of full operation when AC power is unavailable or inadvertently disconnected. Multiple line switching is also incorporated as standard.
The MPS 35C is RVSM compliant with a recommended calibration cycle of one year. Calibration is performed via the instrument's keypad and no mechanical adjustments are required, according to company officials. Calibration factors are password protected.
Additional features include a 5,000-hr warranty on the internal pump, GPIB option, EPR, Encoding Altimeter option, and a standard two-year warranty.
For more information: 203-790-8371, DMA-aero.com