Harvey N. Hop has been selected as the 2011 inductee into the Florida Aviation Trades Association (FATA) Entrepreneurial Excellence Hall of Fame.
Hop, founder of Hop-A-Jet Worldwide Jet Charter, is one of the most unique figures in the history of corporate aviation, according to FATA officials, who spelled out why he was chosen in a tribute: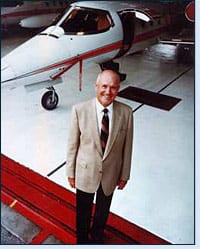 "Harvey Hop lived to fly, both as a Navy pilot and as the owner of his own charter company. During his lifetime, he logged over 37,000 flight hours; literally, he spent over four years of his life flying.
As a naval aviator, through two World War II combat tours in the Pacific, Hop flew in the battles of Midway and of the South Pacific and he was awarded the Distinguished Flying Cross with Gold Star, the Purple Heart and five Air Medals for distinguished service. After the war, he graduated from Naval Test Pilot School, commanded two squadrons and earned three additional Air Medals during his 20-year naval career, until his retirement in 1959.
Following his retirement, Hop became Director of Flight Operations at Collins Radio in Cedar Rapids, Iowa, where he played a significant role in the development, testing and marketing of the Flight Directors, Doppler radar and autopilots still in use in today's aviation industry.
After leaving Collins Radio, Hop went to work for Bill Lear in his new aircraft sales department. Upon delivery of a new jet to its owner in South Florida, he was offered the opportunity to relocate and manage the new Lear 24 for the owner.
In 1977, a decade after moving to Fort Lauderdale, Florida, Hop formed Hop-A-Jet. His strict military training served as the basis for his business philosophy, which includes well-maintained, pristine aircraft, extensively trained crews, excellent customer service, and a complete commitment to safety.
Hop not only flew celebrities like Robert Redford, Nancy Reagan, Frank Sinatra, Jack Nicklaus and Bob Hope, but also critically ill patients, organs for transplants and repair parts for aircraft and the space shuttle.
In 1987, at the age of 70 and still active in the industry, Hop was presented with the Key to the City by the Mayor of Fort Lauderdale and the Lear family honored him with a plaque acknowledging that he had flown more hours in a Lear than anyone else in the world. Five years later, he retired and spent the rest of his life traveling, never staying too long away from the office and hangar of Hop-A-Jet at Fort Lauderdale's Executive Airport.
Hop passed away in 1999, at the age of 82. His principles remain vital through the extended family of more than 250 pilots he helped to train and who went on to open their own businesses or fly for commercial airlines. One of those pilots, Barry Ellis, is now president of Hop-A-Jet, the company Harvey Hop created and which under his solid foundation has grown to achieve unparalleled international success through the legendary pilot's legacy of uncompromising commitment to excellence in aviation."
For more information: FATA.aero, HopAJetWorldwide.com