In this time of high-tech electronic advertising in the form of banner ads and email, it's refreshing when someone takes a low-tech approach to getting the message out, like walking around a trade show with a hand-made sign.
Spirit Olivier from Seattle Stair and Design spent the weekend of Feb. 26-27 walking around the Northwest Aviation Conference holding a sign that read on one side: "Wanted: A partner for Mirage or Malibu" and on the other a plea for hangar space south of Seattle at either King County International Airport-Boeing Field (BFI) or Renton Municipal Airport (RNT). "People were sort of shocked at first, then they thought it was a really good idea," said Olivier. "I got a lot of contacts about the hangar."
The airplane and the hangar are to be business tools, said Shawn Christman, the owner of Seattle Stair and Design. "We have been in business over 30 years and custom stairs have always been our specialty. They get more demanding and complex every year. We build them in steel, wood, glass, stainless cable, stone and acrylics. We also do furniture and woodturning things like architectural columns."
Christman earned his private pilot's license in 2003, "half for fun and half for business," he said, adding that he grew up flying with his father in seaplanes. The family often made trips to the San Juan Islands.
Most of Christman's flying has been in Cessna and Cirrus aircraft. He often flies to meet clients, because the design work can be very abstract.
"A staircase is a very organic, tactile object. Our design process is quite interactive and works best with face-to-face dialog with key parties, whether it's the architect, contractor, or homeowner," he said.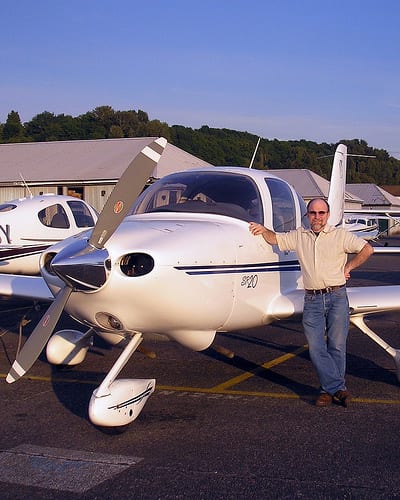 Christman is working on his instrument ticket. "I am coming up on 400 hours and have my high performance and complex aircraft endorsements," he said. "I am intentionally doing my IFR training in a 182RG to be forced to deal with the complexity of the aircraft in the instrument environment. I'm more concerned about being a safe pilot than getting my rating quickly, since much of my business flying will entail cross country, mountains, and marginal weather."
Christman is looking forward to having a larger airplane, which should help expand his business.
"With expanding our reach we will offer qualified clients transport in the Mirage to BFI, which is five minutes from our shop with no TSA hassles. Up to 500 or 600 miles out can actually be quicker than flying commercially. This is very safe and comfortable travel with the pressurized cabin."
According to Christman, he often draws inspiration for his staircases from aviation.
"There is crossover between VOR navigation and circular stair design," he said. "Occasionally, there is good inspiration for dramatic handrail designs from chandelles and lazy eights."
For more information: SeattleStair.com