John and Martha King of King Schools have released a new course titled "Flying the Citation Mustang–Single Pilot."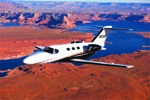 The course features a trip from Palm Springs to Page, Ariz., during which John and Martha demonstrate and explain each phase of flight in the Cessna Citation Mustang.
"To a pilot with a piston-powered background like us, there is no greater thrill than transitioning to a new jet," John King commented. "Sharing the thrill of flying the Mustang with our customers is what this course is all about. We focused on the details that would be interesting to all pilots, not just those that are planning to fly the airplane soon," continued Martha. "Watching these videos will put you right up front with us for an actual flight in the Mustang. Along the way, you will learn both about the Mustang and about flying jets in general," concluded John.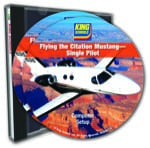 The course also includes bonus features describing what your experience in getting type-rated in the Mustang would be like and giving you more valuable information on the Mustang.
Flying the Citation Mustang—Single Pilot includes 54 minutes of video and is available from King Schools for $99. For more information: KingSchools.com or 800-854-1001