FlightSafety International has promoted Todd Bitgood to Assistant Manager of its Learning Center in St. Louis, Missouri.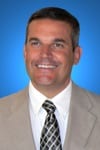 Bitgood was a Standards Pilot at Lufthansa's Airline Training Center in Phoenix, prior to joining FlightSafety in 2001 as an instructor at the company's Learning Center in Tucson, Arizona. He was promoted to Program Manager of the Bombardier Learjet 60 training program in 2004 and then to Director of Training in 2006.
He earned a Bachelor of Science Degree in Political Science from Pennsylvania State University. He holds an Airline Transport Pilot Certificate, is a Certified Flight Instructor and Multi-Engine Instructor, and is Type Rated in the Bombardier Learjet 60 aircraft.
FlightSafety's St. Louis Learning Center offers training programs and services to operators of aircraft manufactured by Bombardier, Embraer, British Aerospace, Sabreliner and Saab. The center features 14 FlightSafety built full flight simulators as well as other advanced training devices and equipment which are part of MATRIX, FlightSafety's integrated training system.
For more information: FlightSafety.com