This summer, Embry-Riddle Aeronautical University will once again offer a Science & Engineering Camp for children between the ages of 8-13. Each of the six week-long sessions will focus on a different topic: Aviation, Engineering, Mathematics, Physics/Astronomy, Robotics, and Space Life Sciences.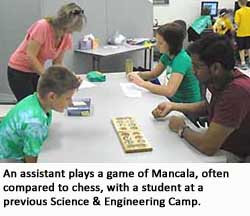 Each week's session has been specially designed by Embry-Riddle faculty to be age-appropriate, fun, and full of hands-on activities, according to university officials. These teachers will be assisted by Embry-Riddle graduate and undergraduate students. Each day will run from 8:30 a.m. to 4:30 p.m. Registration, which is limited to 40 participants per week, is now open and will continue until a session is full. Once a session fills, students can be placed on a waiting list in case a slot opens up.
Tuition is $200 per child per week. A family with two or more children enrolled in the camp receives a 10% discount in price. Embry-Riddle employees, students, and alumni receive a 10% discount.
Week 1: Aviation: June 13-17: This program is designed for students who have an interest in aviation and weather related fields. During the session, students will learn the basics of weather, air traffic control, and aviation through various informative sessions and hands-on activities. Tuition includes simulator sessions, classroom instruction, and materials.
Week 2: Engineering: June 20-24: What is engineering? How do people build machines and make them work? This week is all about engineering, first teaching kids about the materials and structures needed to design and build things and then following up with projects in alternative energy and automotive engineering.
Week 3: Robotics: July 11-15: Students will learn the basics of robotics, electronics, and computer programming, working in a small teams to build a variety of problem-solving robots. After a number of tutorial lessons, each team will build a sumo robot to compete against other teams and a talent robot to demonstrate the skills they have learned. Each student will take home their own robotic kit to continue the fun of robotics building.
Week 4: Physics/Astronomy: July 18-22: Students will engage in the discovery of how things work by learning basic physics concepts. Objects in motion, how the world spins, and how the solar system rotates around the sun will be the connective bridge to astronomy. The week will end with a potluck dinner provided by parents/family/faculty for a night with the stars and the observatory lab telescope.
Week 5: Math: July 25-29: Students will discover and learn the beauty of different shapes, the true meaning of fractions, special circles, math computer games, test-taking/study skills for math, basic probability and statistics, and how to create unique shape patterns. This camp will emphasize critical thinking through creative problem solving and artistic abilities and will use innovative technology such as the smart board.
Week 6: Space Adventure: Aug. 1-5: Students will learn how the human body adapts to space flight and extraterrestrial environments. Because the most important stress problems facing an astronaut relate to the heart, the lungs, and the brain, students will listen to heart and lungs, learn how to measure stress hormones and body temperature, alter the sense of motion and balance, and learn about the biological rhythms of life. They will measure and interpret blood oxygen saturation, electrophysiological data, sleep watches, and simple performance tests.
For more information: ERAU.edu