Hartzell Propeller has received FAA approval of a Supplemental Type Certificate (STC) that covers a new 3-bladed propeller conversion kit for the Beechcraft Baron 55 fleet.
This new Top Prop conversion provides Beechcraft Baron owners with improved reliability, added performance and decreased noise levels, according to company officials.
This same 7391'Scimitar blade was the choice of Hawker Beechcraft for its 50th anniversary special edition G58 Baron, and is currently offered as optional equipment on the HBC production line. Now, it's available as a Top Prop kit to enhance all 55 models, as well as earlier 58s from 1970 to the present, company officials note.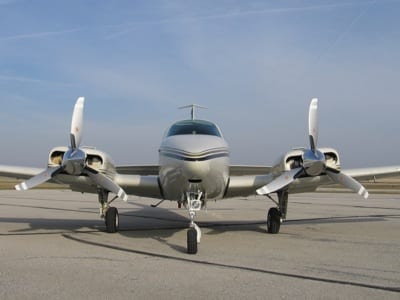 The new Hartzell Top Prop kit features Scimitar aluminum alloy blades, derived from Hartzell's Reno Super Sport race-winning design, provide an increased ground clearance as well as a noise reduction of 5.8 dB(a), as compared to the original 84" 2-blade, and 1.1 dB(a) lower that the 76" standard 3-blade props, company officials explained, adding installation of the propeller typically results in a 2- to 4-knot increase in speed at high power settings when compared to the originally installed propellers.
The new propeller kit is available for Beech Baron models 95-55, 95-A55, 95-B55, 95-B55A, 95-B55B, 95-C55, 95-C55A, D55, D55A, E55 and E55A.
Available directly from Hartzell or through Hartzell's Top Prop dealers, the 2011 list price for these kits, which include new pointed, polished aluminum spinner assemblies, range from $21,500 to $26,850 depending on propeller model and equipment. Kits are available with 14V or 28V de-icing systems or fully compatible alcohol anti-ice systems with newly designed slingers and stainless steel travel tubes. The new propellers carry the Hartzell warranty, which delivers three years or 1,000 hours of coverage, and have a six-year/2,400 hour TBO.
For more information: HartzellProp.com